Teaching Approach: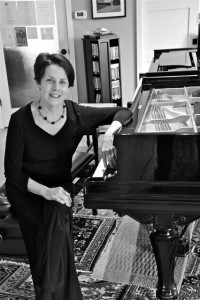 Over 40 years of teaching piano to students of all ages and levels has given me a range of experiences and insights, which I enjoy sharing with my students.
I have a particular interest in working with adult students at all levels of experience, from beginning to advanced. One-hour lessons are available to all those with a serious interest in studying the piano, and include an integrated program of keyboard theory, technique, and repertoire.  Students are encouraged to learn and play from a point of understanding the historical and compositional aspects of their repertoire in progress. Those who work with me should plan on practicing for a minimum of an hour a day, at least five days a week.
In addition to solo repertoire, piano four-hands and two-piano repertoire are studied, with opportunities to get together with other students to share solo works in progress, as well as ensemble and chamber music repertoire.
The piano studio includes two Steinway grand pianos to accommodate both teaching and playing opportunities.
A priority is placed on healthy, whole-body awareness in piano playing.
Related Services Offered:
Preparation for auditions; recordings for auditions
Recordings for piano students' college admission process
Accompanying for concerto competitions and recitals
Coaching of chamber music and ensemble groups, either through NCMC's program, or as part of the student's usual lesson-time.
Professional Background:
Lawrence University, Conservatory of Music. 1968-70
Marlboro College, B.A. Summa cum laude: Piano performance, music education. 1972
UMass/Amherst, M.M. in piano performance, piano pedagogy, music education. 1982
Participant in seminars & workshops with Dorothy Taubman-related program at Amherst College and Princeton University.
Participant in piano seminars with Alan Fraser at Smith College:
"The Craft of Piano Playing"; "Honing the Pianistic Self Image: Skeletal Based Piano Technique". 
On the Piano Faculty at:
UMass/Amherst: Performing Arts Division~ Gr. 6-adults
Greenfield Community College, piano lab, College students
Eaglebrook School , Deerfield, Massachusetts~1996-2001
Head of piano department & chamber music program. Grades 6-9.
Williston Northampton School: 2000-2016
Adjunct Fine Arts faculty member. Grades 7-12
Northampton Community Music Center (NCMC)
A Founder, 1986.
A Board Member for many of the past 30 years.
NCMC~~ From 1986 to present:
Faculty member, piano department; chamber music coach
Instigator and director of many programs at NCMC:

Young Child, pre- instrumental program, for 6 years
Chamber Music program for adults and children, with summer program for students, grades 3-12, for 20 years.
Piano Connection, for adult, advanced pianists: since 2000
Monthly meetings, shared repertoire, outreach concerts.
Concerts:
All over New England: at colleges, libraries, schools, & homes~
Chamber Music concerts, and concerts for two pianos and piano four-hands.
With "The Four Story Players" : concerts for piano four-hands, puppets, mime & percussion
~ Story-telling through music: at the Eric Carle Museum, Amherst 's Jones Library, Northampton public schools, Lathrop Retirement Community: intergenerational concerts.
With Hampshire Choral Society:
a tour of England and Wales as piano accompanist (1980)
Numerous concerts as accompanist.
June, 2016: Two Piano concert at Buckley Recital Hall, Amherst, College, in honor of the NCMC's 30th Anniversary: Two Grands, Eight Hands!
~ With Estela Olevsky, Eugenie Malek, Deborah Gilwood and MKW. Works by Bach, Mozart, Dvorak, Rachmaninoff, John Philip Sousa, Poulenc, Gershwin, and William Bolcom.
Contact:
Meg Kelsey Wright
91 Olander Drive (at Village Hill)
Northampton, MA 01060
413-563-1790
mkwpianostudio@gmail.com