Hello and welcome to my VPTA Profile!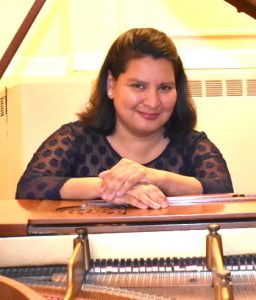 I offer you a warm welcome to my profile, as a musician and nationally certified piano teacher accredited by Music Teachers National Association (MTNA) founded in 1876. It is my passion to help embark beginner-intermediate piano students of all ages on their own fun and rewarding musical journeys through private piano lessons with me in Westfield in western Massachusetts.
A little more about myself is that I am a graduate of Cornell University, and my own musical studies were done at Mannes School of Music and at Hunter College, as a second degree music major at the latter college. My piano teachers have included celebrated concert pianist, Xiayin Wang, and performing jazz pianist, Glafkos Kontemeniotis. I have served as a pianist, organist, guitarist, and cantor for the Archdiocese of Springfield, and I have over ten years of experience teaching music to students in a combination of private and classroom settings.
As a piano teacher, I offer my students traditional and alternative modes of instruction; moreover, I have a repertoire-rich approach and make every effort to help my students to develop a repertoire of music that they will enjoy and build on throughout their entire lives. This repertoire can include classical music, pop, jazz, and more. At their lessons with me, my students regularly learn sight reading and improvisational skills, music theory, accompaniment skills, play musically educational games, and work on developing good techniques at the piano.
Please be welcome to contact me, I would love to hear from you.
Contact:
Isabel Marcheselli, NCTM
PO Box 155
Westfield, MA 01086
marchesellimusic@gmail.com
website: Marcheselli Music Studio