Teaching Approach: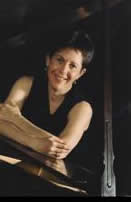 My approach to teaching is to tailor lessons to each student's goals and needs. I am a patient and enthusiastic teacher. I incorporate theory, technique, and musicianship into lessons. As a certified instructor in the Taubman technique, I find it to be a natural approach to piano playing that promotes artistry and fluidity at the piano, as well as a help to overcoming limitations. The approach can help heal and prevent repetitive motion injuries. I enjoy teaching students of all ages and levels. For more information about the Taubman Approach, please visit: www.golandskyinstitute.org
Background:
I received a BA in Music from Brown University , and Master's Degree in Piano Performance and the Creative Arts in Education from the Longy School of Music and Lesley College . I have studied the Taubman approach with Mary Moran and Edna Golandsky since 1992. I am a certified Associate and an Adjunct Faculty member of the Golandsky Piano Institute. I have been teaching and performing solo and chamber music in the New England/ New York region since 1978. I have 12 self-produced CD's featuring my performances of solo and four-hand piano music.
In addition to maintaining my private studio, I have taught piano at Northampton Community Music Center, Groton Center for the Arts, Milton Academy, Greenfield Community College, Eaglebrook School, Art Space, and the Academy at Charlemont. I have presented clinics, workshops and Master classes at University of Massachusetts, Northampton Community Music Center, and the Neighborhood Music School in New Haven, CT and will be presenting in Norway in 2019.
Contact:
Julia Bady
35 Oak Hill Acres
Greenfield, MA 01301
413-774-0102
j.bady@comcast.net
website: www.juliabadypianist.com