Hello!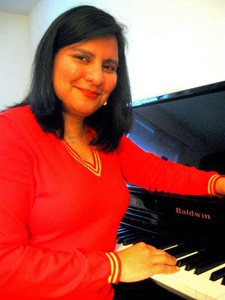 I offer you a warm welcome to my profile, as a piano teaching artist based in Westfield, MA, and one who is eager to launch students on their own fun and rewarding musical journeys.
My own musical odyssey began at six when I started singing pop songs by R&B artists like Lou Rawls, and evolved into my early teens when I began composing my own style of dreamy songs on the piano.
Ever since, my life has been full of musical dreams-come-true that have included active touring with bands, including my own band, Isabel and The Whispers, on many stages throughout New York City, and releasing an album of my own original songs on piano. My vocal and instrumental works have also been recorded on the albums of other artists. My musical studies were done at Mannes College of Music and Hunter College and my piano teachers have included celebrated concert pianist, Xiayin Wang, and performing jazz pianist, Glafkos Kontemeniotis. These days, I continue to perform and record all kinds of music as well as teach.
All the while, I have cultivated experience successfully fostering music-making in large classrooms and in private lessons, since I have a passion for inspiring musicality and fostering good musical techniques in students everywhere of all ages. I have a repertoire-rich approach to teaching and also enjoy fostering improvisational, singing and songwriting abilities in my students as they grow and mature at the piano.
Please feel welcome to contact me, I would be happy to be of help to you or your loved ones at the piano.
Contact:
Isabel Marcheselli
Westfield, MA 01085
413-777-2885
marchesellimusic@gmail.com
website: Marcheselli Music