Teaching Approach: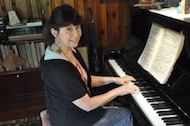 I teach basic music reading skills side by side with piano technique and music theory. Aside from emphasizing the study of classical music (from the baroque era to the 20th century), I like to include students' personal choices of musical styles from the start (rock, jazz, folk, contemporary, etc.). In my teaching, I like to incorporate various clapping (or tapping) exercises whenever necessary in order to help students improve their fine motor skills and overall hand coordination. After approaching a problem physically, they usually are better able to process and perform challenging rhythms and polyrythms. Observing and respecting each student's own pace, as s/he learns to comprehend often challenging musical concepts, is of great importance to me. I like to provide needed guidance in a supportive manner.
I encourage improvisation as it gives students a chance to express their creativity and explore their own music. It also gives me the opportunity to discover their natural skills and technical strengths. With time, I usually find that improvisation greatly contributes to an increased confidence and enjoyment in each student's overall playing.
Background:
Catherine Iselin trained at the Dalcroze Institute in Geneva, Switzerland, where she earned her Teaching License in Eurhythmics, as well as Geneva's State Prize for Excellence and the 1974 Piano Improvisation Prize. Aside from advanced piano training, professional studies at the Dalcroze Institute include four years of training in Eurhythmics (a method designed to teach children and adults the fundamentals of music through movement), piano, piano and movement improvisation, pedagogy, music theory, harmony, solfege (sight-singing), sight-reading, as well as percussion and music history.
Catherine has been teaching piano in Switzerland and in the U.S.A. for the past 35 years. She has been the teacher choice for many area music professors and professional musicians.
Contact:
Catherine Iselin
17 Beston Street
Amherst, MA 01002
413-253-5573
cilklavier@gmail.com
website: catherineiselinpianolessons.com